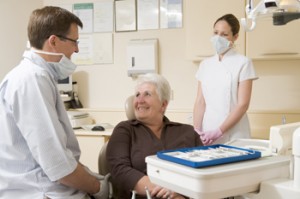 For overall good health, your teeth must last a lifetime. Fortunately, senior discount dental plans from Key Dental offer an affordable and flexible option to suit your budget and lifestyle. Whether you live in Florida or anywhere in the U.S., senior singles, couples and even families can enjoy the freedom of a Key Discount Dental Plan for seniors. It's not dental insurance!
Five Benefits of Key Discount Dental Plans for Seniors:
No Restrictions. Everyone is accepted. Enjoy freedom from deductibles, and say goodbye to forms and any exclusions.
No Waiting. You don't have to wait to see a dentist. With our plan you can see a qualified dental professional right away – even on the same day of you apply.
Affordable. Senior Dental Plans don't have to be costly. Nor do they have to be sub-par if they're affordable! Enjoy top-notch care and benefit from 20%-60% savings on nearly all dental procedures.
See Specialists. Key Dental has a variety of pre-screened and qualified specialists such as periodontists, prosthodontists, maxillofacial specialists, endodontists and oral surgeons for all of your dental care needs. Dental implants, crowns and yes… even dentures and implants are within reach.
Keep Your Dentist. Key Discount Dental Plans for seniors enables you to you skip the aggravation of having to find a new dentist. Your existing one may participate in our plan! If not, we offer thousands of pre-screened dentists to assure you the highest level of care.
From routine check-ups to oral surgery, Key Dental provides discounts for virtually any dental procedure with an unlimited number of annual visits. Its low-cost annual membership pays for itself, so you can visit the dentist without tremendous financial burden. No matter what your dentist would normally charge for a procedure, with a discount plan, you pay the dollar amount listed in the fee schedule.
To participate in Key Discount Dental Plans for seniors, apply online for a one-time fee of $19, choose the plan that's right for you, and decide whether you'd like to pay an affordable rate for the entire year or a low-cost monthly fee. Monthly plans require a minimum one-year contract, while multi-year commitments are offered at a reduced price.
Recapture the smile of your youth. Choose affordable senior Dental Plans from Key Dental. Please contact one of our friendly customer care representatives at (800) 539-4550 or join online today.