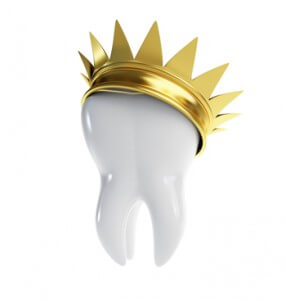 Crowns are tooth-shaped synthetic caps placed on the top of a tooth to secure a weak, broken or cracked tooth, attach bridges, cover dental implants, conceal discoloration, restore a tooth's function after a restorative procedure such as a root canal, or preserve an existing filling. They look and function just like healthy teeth and are designed to fully cover the visible area of a tooth above the gum line.
Crowns can vastly improve your smile for cosmetic purposes and help to maintain oral health, however, dental insurance that includes crowns may not be available to you. Consider Key Discount Dental Plan, an alternative to dental insurance that provides a significant discount on porcelain dental crowns.
Many individuals unnecessarily shy away from this restorative procedure because dental insurance that includes crowns may not be an option. There's no need to be deterred from getting crowns. Everyone is accepted with the Key Discount Dental Plan, a vastly different option than dental insurance that includes crowns! Everyone is accepted and members can enjoy 20%-60% off procedures.
Key Dental Plans Are Unlike Dental Insurance That
Includes

Crowns

Key Dental offers a "reduced-fee-for-service" discount dental plan where members pay a specified rate for the dental services they receive. To join, a low-cost, one-time registration of $19 is required. After that it's $149 for singles, $249 for families per year. For these nominal yearly fees you can save more than half off most dental services. There are monthly plans, too, which require a minimum one-year contract. Multi-year commitments are offered at a reduced price. Plus, all discount dental plans can be upgraded with a RX/Vision component for only $7/month.

Aside from not being dental insurance that includes crowns, Key Dental offers members the ability to choose a dentist from a large network of professionals. Key Dental works with thousands of pre-screened and qualified dentists to assure the highest level of care. In fact, many of our members have discovered that their current dentist already participates with Key Discount Dental Plan. You can also be confident knowing that Key Dental is backed by the Better Business Bureau (BBB) and offers a 30-Day Money Back Guarantee.

In Michigan, Delaware or any U.S. state, choose Key Dental as an option to dental insurance that includes crowns. It's easy to meet all of your dental needs at a fraction of the regular cost with Key's affordable Discount Dental Plan. Apply online or call 1.800.539.4550 and start smiling brighter today.