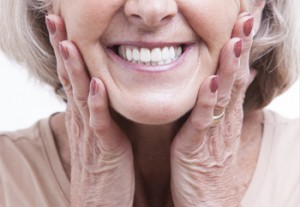 Dentures can vastly improve your smile for cosmetic reasons and to help maintain oral health. Dental insurance that includes dentures differs from the Key Dental Plan and offers significant discounts on dentures from a Prosthodontist. In the Carolinas, Florida and anywhere in the U.S., consider Key Discount Dental Plan, an alternative to dental insurance that makes dentures a viable option for individuals who are missing teeth.
As you age, you may lose some permanent teeth. Even the loss of one tooth can cause existing teeth to shift and make it more difficult to talk or eat. Missing teeth also negatively affects self confidence, but dentures can help. There are partial dentures that replace a few missing teeth or complete top and bottom dentures that can replace them all. They are normally made from acrylic resin, a safe, plastic-like material that is molded to fit the shape of a person's mouth. Suction holds them in place and they look and function just like healthy teeth.
Take care of your permanent teeth with regular visits to the dentist and you might not need dentures. But if you do and choose Key Dental, know that it's different than dental insurance that includes dentures. Everyone is accepted and you can receive 20%-60% off services. The Key Discount Dental Plan offers an affordable alternative to put dentures within your reach and there are no limits on the amount of visits.
Key Dental is Not Dental Insurance That
Includes

Dentures

Key Dental offers a "reduced-fee-for-service" discount dental plan where members pay a specified cost for the dental services they receive. To join, a low-cost, one-time registration of $19 is required. After that it's $149 for singles, $199 for couples and $249 for families per year. For these nominal yearly fees you can save more than half off most dental services. There are monthly plans, too, which require a minimum one-year contract. Multi-year commitments are offered at a reduced price. Plus, all discount Dental Plans can be upgraded with a RX/Vision component for only $7/month.

Aside from being a unique choice over dental insurance that includes dentures, Key Dental offers members the ability to choose a dentist from a large network of professionals. Key works with thousands of pre-screened and qualified Prosthodontists and dentists to assure the highest level of care. In fact, many of our members have discovered that their current dentist already participates with Key Discount Dental Plan. You can also be confident knowing that Key Dental is backed by the Better Business Bureau (BBB) and offers a 30-Day Money Back Guarantee.

Choose Key Dental, the alternative to dental insurance that includes dentures. It's easy to meet all of your dental needs at a fraction of the regular cost. Apply online or call 1.877.327.8376 and start smiling more broadly today!